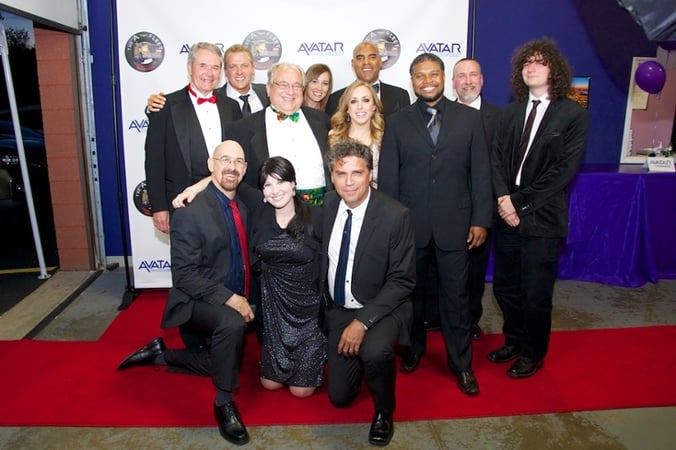 Lights, Camera – Action!!
To our valued customers and friends who attended our A-Fleet premiere night last week, and celebrated the release of The Professional Safe Driver Course with us – a heartfelt thanks from all of us to you. If you were unable to attend due to the hundred-and-one things you have to take care of in the course of a day – we certainly missed seeing you!
I thought I'd reminisce and share some moments from the evening with you.
Everyone who knows us just a little knows that AvatarFleet knows how to throw a party! This evening was no exception. Guests arrived and walked down the red carpet, had photos taken at the A-Fleet step-and-repeat, drank Joe the Bartender's concoctions, including What the Truck, and the Triple L-C (three liquors and coke), mingled and had a great time during the pre-show gathering hour. The Major, Doc, Einstein & Turtle arrived all decked out in snazzy tuxedos, and Wheels wowed the crowd in a long sequined gown (no Daisy Dukes for her on this night)!
The Main Event featured commentary from key AvatarFleet staff who were instrumental in taking The Professional Safe Driver Course from intellectual property to a truly revolutionary approach to education. Edutainment, we like to call it. CEO Mark Gardner spoke about his long career working in the trucking industry, and explained that he goes to work every day to make the world a safer place. Bill Johns, Matt Pallotta and Dan Clinger reflected on the creative process, and how they came up with the engaging, character-driven approach that separates AvatarFleet's training material from all the rest. The cast then each said a few words about their experiences working with AvatarFleet and being a part of such a fun project. Yes, fun. Who ever thought you could use the word 'fun' to describe driver training!!??
The crowd then enjoyed an ever-so-entertaining highlight reel of The Professional Safe Driver Course, which left them hungry for more.
Again, thank you for helping us celebrate our achievements. We are so fortunate to know all of you. Stay tuned!! And get ready to join the revolution!
Karen Downing
Director of Business Development
Avatar Management Services, Inc