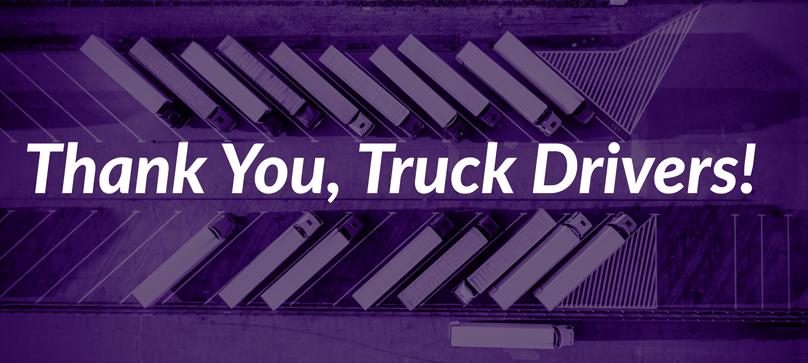 During COVID-19, we're all counting on drivers to keep the stores stocked with the essentials. Consumers rely on them, the economy relies on them, and your business relies on them. Over-the-road drivers spend days or even weeks on the road away from their families. They rely on truck stops for food and a place to shower. Oftentimes, they rely on their customers just for a place to use the restroom. It's a difficult job. Many people choose it because they enjoy the open road and weren't cut out for an office job. That's lucky for the rest of us. However, COVID-19 shutdowns are making the already difficult job of being a truck driver even harder.
The Effects of COVID-19 on Truck Drivers
Most jobs have been negatively impacted by the spread of COVID-19. For truck drivers, though, the impacts are drastic. As the Akron Beacon Journal reported in an interview with JRayl driver instructor Rich Hayworth, almost everything has changed for drivers. Here are some of the biggest challenges drivers face during the pandemic.
Real Food Options are Unavailable
As Hayworth pointed out, the food options are slim right now. "You can't eat at the truck stops anymore, so you have to get your food to go...And a lot of them even have stuff shut down." What's worse, restaurants that offer healthier options than fast food and hot dogs have temporarily closed. The CDC reports that truck drivers are at higher risk of serious health complications due to their on-the-road diet. This problem is sure to get worse.


No Restroom Access at Customer Locations
Truck drivers count on customers for access to their restrooms but most businesses have restricted visitor access. It's difficult to only rely on truck stops and it saves them time from making an extra stop. We are urging our friends in the business community who have shipping and receiving docks to rent portable restrooms during the crisis, if you're no longer allowing visitors in your building. (If you don't have a portable restroom, the side of your building is already getting used as a restroom so help a driver out.)
Reduced Exposure Means Decreased Facetime For Drivers
Even worse, when drivers finally come home to their families, many are quarantined in another part of the house. For the foreseeable future, many truck drivers won't have close interaction with anyone. Regardless if you're an introvert or extravert, humans are hardwired to crave human interaction and connection.


Keeping Things "Business as Usual"
Perhaps worst of all, some carriers are acting as if it's just business as usual. Drivers come into the office and interact with other staff without any safety measures. Your drivers and staff know this is not business as usual. You are being watched by your staff on how you handle this crisis - are you going above and beyond for your drivers or are you putting your head in the sand?
What Can You Do to Help Drivers?
It's hard to be a truck driver right now, but these problems are not without solution. Here are some ways carriers can support drivers during the pandemic.
Provide Masks And Truck Sanitation For Your Drivers
Businesses are shifting to produce Personal Protection Equipment (PPE) that weren't in that space two months ago. Masks and sanitation materials are easier to acquire. Liquid X is a friend of ours who shifted their technology to create antimicrobial face masks. Your drivers need cleaning supplies and disinfectant to keep themselves safe out on the road, and they need masks to stop the spread of the virus. Giving them these materials is a great way to protect them and show you care. Also, you're decreasing the chances that a driver will be sidelined with COVID 19.
Implement Exposure Control Methods
If you have your drivers coming into the office and interacting face to face with your other staff members, you're adding unnecessary exposure risk. Instead, use video conferencing like Facetime, Zoom, or Google Meets. Have your Driver Managers check in with drivers daily via these platforms. They need human interaction now more than ever. Also, our clients have moved all their paperwork to a digital format to avoid having new or existing drivers come in to fill out forms.


Send Them on The Road With Coolers of Food
It's always difficult for drivers to find quality food on the road but it's harder now than ever. You're drivers are stuck eating taquitos washed down with hot dogs from the roller... no stomach is doing well with a week straight of that. We have clients who have created an assembly line of foods that travel like deli meat, salads, chili and stews. It not only improves your drivers' health, but these are actions that create a driver for life.
Your drivers will remember how they were treated during the pandemic. Many don't want to be out there but they have to work. Turnover is low because people are grateful to have a job. Don't become complacent. As the economy opens back up, that will change. Your actions today will create a driver for life or one who has already started their job search. What actions are you going to take?