Recruiting professional drivers is no easy job. A recruiter often has to do the job of four or five people, spending their day contacting drivers by phone or email, following up on paperwork, ordering background screens, scheduling interviews, and training. Because of this, your recruiting process has to be as efficient as possible. You need to have a clear plan of action that makes sense for day to day tasks and also the tools to carry out that plan.
Driver recruiting software is not new, but systems are getting better everyday. Now more than ever, it makes the most sense to use some platform to track applicants and seek out potential candidates. These programs vary in their look and comprehensiveness. There are three areas to pay special attention to as you assess how you execute a strategy to bring in more quality drivers to your fleet:
1. Accurate Reporting
You often hear recruiting referred to as a "funnel". Driver recruiting software can help visualize this process for you and answer key questions. What is the best lead source? What percentage of contacts get back to us? Does calling/emailing/texting get the most response? Where is the bottleneck in the hiring/onboarding process and how can we improve it? These are all important questions that allow you to bring on more drivers each month.
2. Filter Candidate Actions/Daily Tasks
As we've established, recruiters are very busy people. You need a prioritized list that clearly identifies who a recruiter needs to get in touch with today. You don't want recruiters building lists, you want them working lists. Many driver recruiting software systems also use automated messaging, enabling you to contact several drivers quickly with reminder texts or emails instead of the recruiter typing out a message over and over or making several additional calls.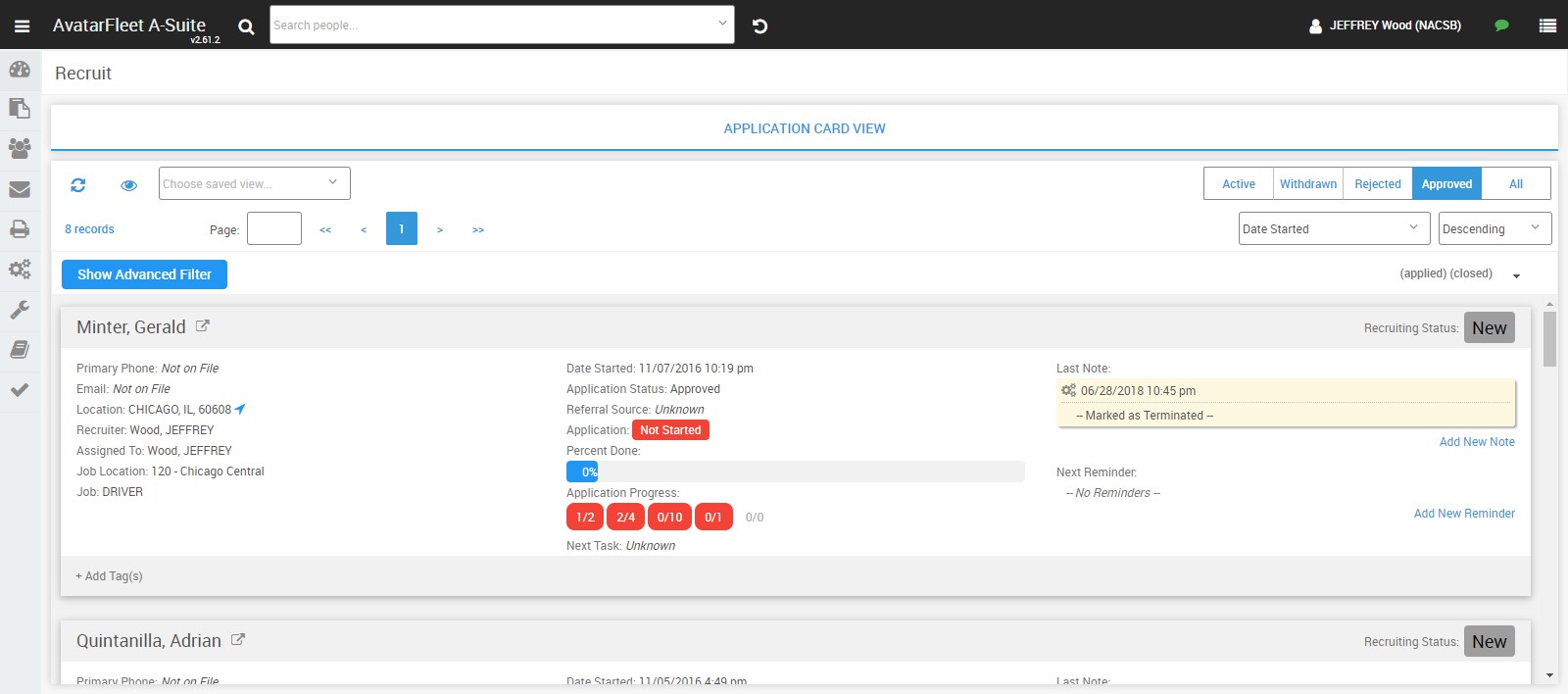 3. Really Know Where Leads Come From
Your driver recruiting software should integrate with various jobs boards so interested leads auto-populate into your to-do list. There are three major benefits:
Recruiters get automatically notified when a quality lead enters the system
Drivers do not have to re-enter any information they previously entered in the advertising job board
Automated reporting of where drivers found you so get better information about which jobs boards create hires. Ask a driver where they found you and you'll get answers like "the internet". On the other side, many jobs boards are aggregators so it may be impossible for that driver to actually know what source they found you on.

Candidates and recruiters save time while you get more accurate information - this is a no-brainer!
These are just some of the ways a recruiting process can be formed and assisted with driver recruiting software. With additional time and information at your disposal, your recruiting team can plan and adjust recruiting strategies to fit your company's needs and also adapt to whatever changes may occur in real time.
Schedule a demo today to see how A-Suite can help with these three items and more!