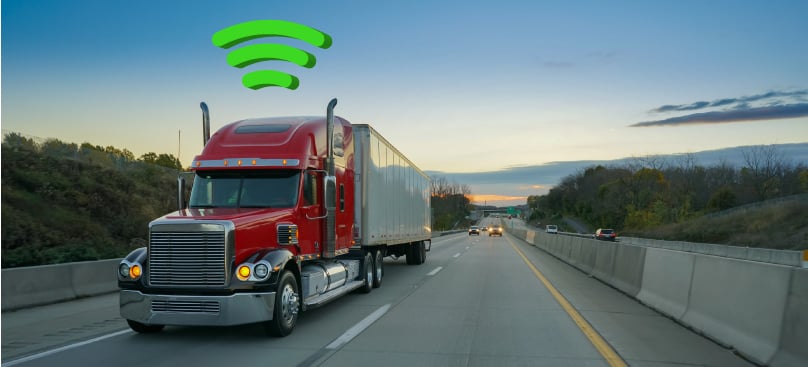 This post was updated on June 9, 2021.
A guest post by Joseph D Kost III, Agent, TrueDTI - A Transportation division of Quest Financial & Insurances Services
www.truedti.com
www.questfis.com
Telematics are technologies used to monitor a wide range of information relating to trucking operations or individual vehicles. Telematics systems gather data such as vehicle location, driver behavior, engine diagnostics, and vehicle activity to help trucking operations create efficiencies and reduce costs.
How Will Telematics Help My Company
Fleet telematics specifically are used to gather a range of data using Global Positioning System (GPS) technology, vehicle sensors, and vehicle engine data to provide fleet operators with the information they need to manage their fleet. Together, these systems capture important data about driver habits, vehicle maintenance, and fuel efficiency that in turn can help generate ROI (return on investment).
Typically, ROI can be generated from five main areas:
Maintenance - preventative and timely repairs that address three main CSA violation areas: lights, brakes and tires.
Fuel - Miles Per Gallon: where to buy on the road and proper use of home fuel
Safety – speed, driving habits, etc.
Movement/Tracking
Asset Utilization – time and idle time monitoring to help maximize drivers' 70 hours and generate the proper revenue per time period measured.
The three largest areas ROI will be generated from are idle time measurement/correction, safety, and administrative costs.
Idle Time
Telematics can help you discern if idle time is driver- or location-specific and/or if shippers and receivers are causing the 80/20 rule on accessorial expenses for the carrier and driver loss of pay. This data gives you real-time, documented proof of time in/time out for detention delays wherever they may occur and why. This makes having the conversation with your customers a lot easier because it's all about the numbers.
Safety
From a safety standpoint, telematics can measure by driver when and where speeding occurs and for how long. You can also see other dangerous behaviors such as hard braking and fast acceleration. Telematics provides coaching information to review with drivers - both positive and negative. Use the tool to "catch" your drivers doing things right! If used properly, CSA scores can be driven down and implementation of technology such as cameras can also lower insurance costs. In both of these cases, there are large ROI opportunities if data is used correctly and changes are implemented with drivers and clients.
Administrative Costs
An additional area where efficiency will help ROI is administrative costs. With less time and fewer people devoted to compliance, since ELD technology captures all of the above information. Telematics can capture mileage information for fuel tax reporting, again creating a reduction in time and labor hours.
Like with any new software, achieving ROI depends on some other non-data factors like:
Supply Chain/Logistics must buy in - not just for the investment, but for realistic/achievable ROI dollars.
Since there is a learning curve with any new software and data, the telematics vendor must have effective, ongoing training and support to continue refining and generating new areas for ROI and cost savings.
You need to have tech-savvy transportation operations staff members to generate data and analyze it.
Making Telematics Work For You
Focus on the quality of data, not the quantity. Focus on the areas that give you the largest ROI possibilities. Work on idle time reduction, increased MPG and safety-related metrics to improve driver behavior (speeding, progressive shifting, etc.).
Perform proper due diligence in analyzing many telematic service providers. Use this guide to help you narrow the list of key features to focus on during your implementation.