What are your driver recruitment goals? Whatever they are, they're tied directly to your success as a business. However, the more important question is how will you achieve them?
If you work in the transportation industry, you're staring at empty trucks and buses every day. And, it makes you sick. A good place to start is at the top of the recruiting funnel by making more effective driver recruitment landing pages. Effective landing pages convert more unknown visitors into leads - that means onboarding more drivers with the same advertisement budget.
Focus on improving three items on your landing pages: content, workflow, and a low-risk call-to-action.
Content: What's On Your Landing Page?
Include Video on Your Landing Page
Does your landing page have a video? If not, it should. Landing pages with a video convert leads at an 80% higher rate than those with just text. You want a 90-second video that immediately tells visitors to your landing page what makes you different from other transportation companies. Essentially, answer why they should drive for you and not someone else.
Perhaps the best way to use videos is to include driver testimonials. Potential hires will listen to your drivers more than they listen to you. We can help you capture high-quality video testimonials and utilize them in recruiting.
Speak to Your Driver Personas
Making a video for your landing page is an important first step. However, If you did your homework on driver personas, you can take it further and design a video for each persona at your company.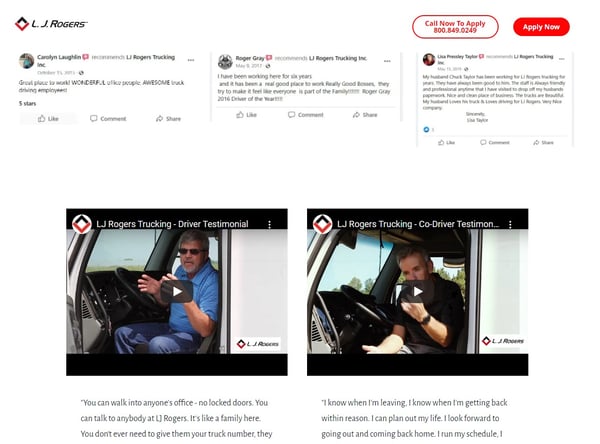 LJ Rogers uses driver video testimonials related to the persona in which they're hiring to prove that they are a good fit for that type of driver.
Your ads should speak to each persona and send traffic to the corresponding landing page. The goal is to get a personalized message to as many people as possible. The more your message resonates with your prospective drivers, the more likely they are to give you their contact information.
Download the Free Driver Personas Template >>>
Write High-Quality Content
Your best bet is to outsource writing the landing page to a content writer. However, if you have a tight budget or you're a writer yourself, you can make an effective driver recruitment landing page with these tips:
Lead with WIIFM. In other words, "What's in it for me?" The first headline on your landing page should immediately answer why a driver should continue reading.
Utilize bullet points, lists, paragraph breaks, and images to make your page more readable. Large blocks of texts are not easy to look at or read.
Provide enough information to pique interest, but not too much to overwhelm the reader.
Add a high-level look at job requirements and working conditions later in the landing page. This way, candidates understand if the job is for them.
Add social proof such as quotes from drivers or driver video testimonials to show why it's good to drive for you.
Always make the next step clear. When a driver comes to your landing page, it's all about user experience. You want them to know what action to take next, such as clicking a button to fill out an application.
Include the email and phone number for recruiters. Some drivers want to talk to you before giving you their information.
Workflow: Rein in Your Advertising Efforts
You're hiring drivers from ads, job boards like Indeed or CDLLife, emails, and the back of your equipment. How do you know which sources are worth the money and which are burning your budget?
Driver recruitment landing pages use a tracking link embedded in your driver recruiting ads to tell you which source brought you this lead.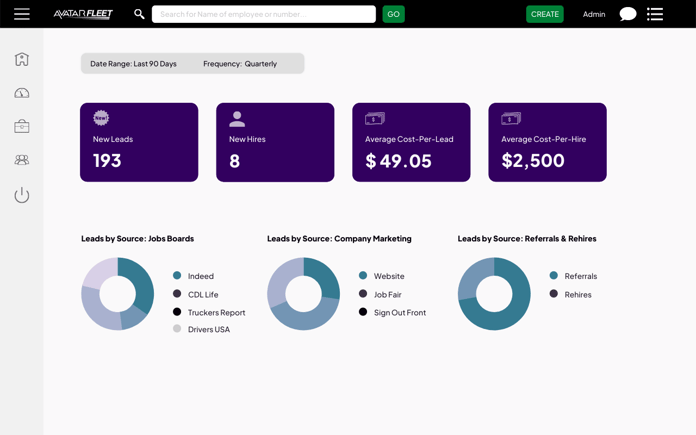 A-Suite Recruit provides a breakdown of what sources are generating the most leads and hires.
You can't count on drivers to tell you how they found you because they often forget and, truth be told, they don't really know. For example, ZipRecruiter is a jobs board aggregator that posts on hundreds of sites on your behalf, such as Indeed. The driver will tell you he found you with Indeed when really ZipRecruiter deserves the credit.
Tracking links tell you this information automatically. It will be clear where to spend your advertising money based on tracking which sources provide you hires. Best of all, you won't have to waste time building reports to find out.
Call to Action: Make it Easy to Say Yes
A Call-To-Action (CTA) is a statement designed to get an immediate response from the person watching, hearing, or reading it. It's used in driver marketing to move the candidate to the next step in the recruiting funnel.

Make your call to action clear and reinforce the WIIFM.
You want a CTA on your landing page to immediately pop up after someone watches your video. Most importantly, you want your CTA to be something easy and low risk. Keep it as basic as collecting their contact information so you can follow up with a phone screen. The easier the CTA is to complete, the more likely you are to turn someone you didn't even know existed into a lead.
Here are a few more tips for making an effective CTA:
Use clear and concise language
Stick to one CTA ("click here to apply", "contact us at this link", etc.) - you want one, single, and clear next step
Put your CTA at the top of the landing page, the middle, and the end - that way, no one will miss it


Spend the Same Money - Hire More Drivers
Whatever your recruiting goals are, one of your first steps should be effectively using a driver recruitment landing page. If you don't know where to begin, check out recruitment software products like A-Suite.
A-Suite makes it easy to:
Create and utilize driver recruitment landing pages
Track time-to-hire, sources, and other pertinent data
Write and design consistent, professional landing pages/ads
With A-Suite, you can generate more quality leads without spending an extra penny on advertisements. Best of all, you'll spend less time entering data into spreadsheets so you have more time to do the important work: recruiting drivers.
Interested in learning more? Talk to us today to understand how A-Suite can help you fill your empty seats today.