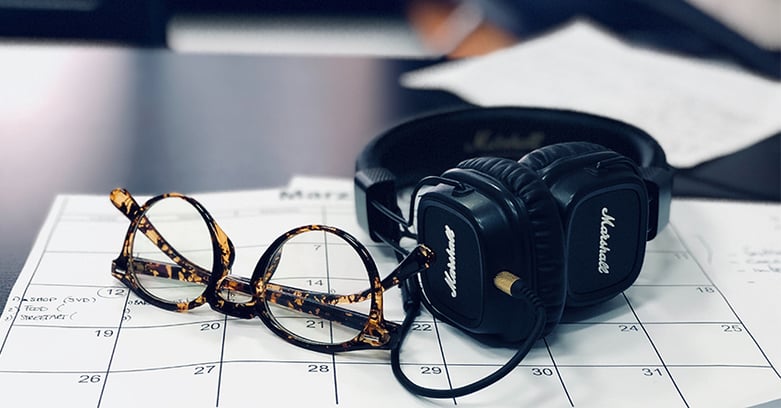 Maybe you've just been tasked with quickly developing a safety training program for your organization. Or, in the most unfortunate of circumstances, maybe your company has just had a major collision and you want to make sure it never happens again. Regardless of the situation, you need to act fast in order to build an effective safety program. We'll show you how you can do that in one month's time.
A Word For The Wise . . .
An effective safety training program takes time, energy, resources, and expertise to create. The more you put in, the more you get out. You want to make sure that your safety training is more than just preaching to your employees - you need it to change behaviors. We call it creating outcome-based training. Otherwise, you're wasting your money.
You can't just sit your employees down and have them watch a couple videos. That's not learning, and you won't see any results. Effective safety training programs utilize adult learning theories and practice sound instructional design.
The fastest, most cost-effective, and most effective way to handle employee safety training is usually to outsource it. If you subscribe to an off-the-shelf non-cdl driver training program like The Fleet Safety Course, you will have access to:
Professional instructional designs with proven learning outcomes
Safety training lessons with professional videos, graphics, animations and supporting materials
Real behavioral change leading to fewer accidents and injuries
A

learning management system

for easy organization of your training
Professionally-made safety training can pay for itself twice-over within the first year. You can save yourself the headaches and hassle of developing your own training while protecting your people. However, if you're up for the challenge of making your own safety training program from the ground-up, read on.
Week 1. Start With The End in Mind
When athletes enter the off-season, they have an ultra-specific training plan created to achieve their goals. Otherwise, they would flounder around and not see any progress. Learn from these athletes. What is the goal of your safety training program?
You need to get more specific than just "reducing accidents" or "making my people safer." You need concrete, attainable, data-driven goals if you want to see actual change from your safety training program.
We recommend starting with an investigation into your most common accidents:
Find out what your top-ten most common and costly accidents are
Find out what unsafe behaviors cause each accidents(e.g. rear-end collisions are caused by following too closely)
Focus your safety training program on reducing those ten unsafe behaviors that cause those accidents
When you start with this end in mind, you can build a safety training program that will result in a drastic reduction of your accidents and injuries.
Week 2. Research, Research, Research
With your list of the top-ten unsafe behaviors, it's time to research. In fact, it's time to do a lot of research. You need to learn everything there is to know about each unsafe behavior and the corrective action your drivers should take.
We've posted safe driving tips before, but you need even more than our articles. You need to do lots of research on each specific unsafe behavior. Then, you need an in-depth understanding of safety, risk, accidents, and these specific unsafe behaviors. Here are a few resources you should check out to get you started:
Unfortunately, that isn't all the research you need to do. You should also spend time familiarizing yourself with adult learning theories, adult coaching techniques, and basic instructional design principles. It's a lot to take it, but we have a few resources that can help you.
This article on

5 tips for teaching adults

This article on

employee feedback, coaching, and development

This article on

basic instructional design theories
If you're looking for a more guided approach to this information, LLLC Certification teaches drivers the Four Principles to Driving Safely which encompass all defensive driving. And, the certification process teaches you or your instructors the basics of adult learning and coaching.
Week 3. Develop Your Training Content
With an entire week of research and learning under your belt, it's time to tackle your safety training program's content. This is the "meat and potatoes" of your training course. The best training courses consist of a mixture of video-based lessons, presentations, quizzes, activities, discussions, and exercise. This is called taking a blended approach to learning.
A blended approach to learning is most effective because it integrates technology and digital media with traditional instructor-led classroom activities such as group discussions and exercises. Using a blended approach to learning ensures that your employees stay engaged and that you teach to everyone's different preferred learning styles.
Professionally made training programs, like The Fleet Safety Course and LLLC Certification, utilize blended learning.
Week 4. Make Your Training "Sticky"
Do you remember how to solve a quadratic equation? Do you remember the steps to the scientific method? How about the major themes in the Iliad or the Odyssey?
At one time, most of us were well-versed in one or more of these topics. We studied hard, passed a test, and moved on to the next thing. Fast forward to today: we have no clue about any of this. That's because we don't remember what we don't use, and it works the same with your safety training.
If you want an effective safety training program, you can't call it quits after initial-hire training. You need to keep safety training top of mind for your employees so they work to prevent accidents every day.
We cover several ideas of how to do so in this free e-book on safety campaign ideas. One of the stand-outs is the Monthly Safety Initiative. Every month, host a safety meeting on a rotating topic. It works best if it's a loss-leading unsafe behavior. In that safety meeting, retrain your employees on the most important aspects of that topic that they learned in their initial-hire training.
Fleet Safety Course comes with shortened videos (called safety-tune ups) that work great for this purpose. We can even help you roll-out your own monthly safety initiative!
Are You Up For The Challenge?
Building a safety training program is time-intensive, burdensome, and takes away from your other essential duties. However, it's not an option to just ignore safety. Lives are on the line.
If you're already well-versed in defensive driving, adult learning, and instructional design, use what we showed you in this article to get your safety training program up and running. If you're not, we don't usually recommend you try to do this on your own. It's too sensitive an issue to leave up to chance.
Contact us for a free 30-day demo of Fleet Safety Course today and you will rest-assured that your people are protected.