We recently sat down with our friend Kim Richardson of KRTS to talk about some of trucking's hottest topics. We came away with a few recruiting and retention strategies carriers can use to attract more quality drivers. Specifically, we focused on three items that impact your success in recruiting and retention: hiring practices, online reviews, and letting drivers voice their opinions.
Watch the talk in the video and read the summary in the first part of our series, For the Love of Drivers.
Improving Your Safety Culture - It Starts with Hiring
It's hard to be picky about bringing on the right person when you're desperate for drivers. You need to build a recruiting machine that attracts the right drivers personas to your door. The best way to do that is to focus on building systems that support your existing drivers.
This lands you a good reputation in the market and gets the word of mouth out there. Your online reviews turn from angry rants to love letters and the snowball effect begins.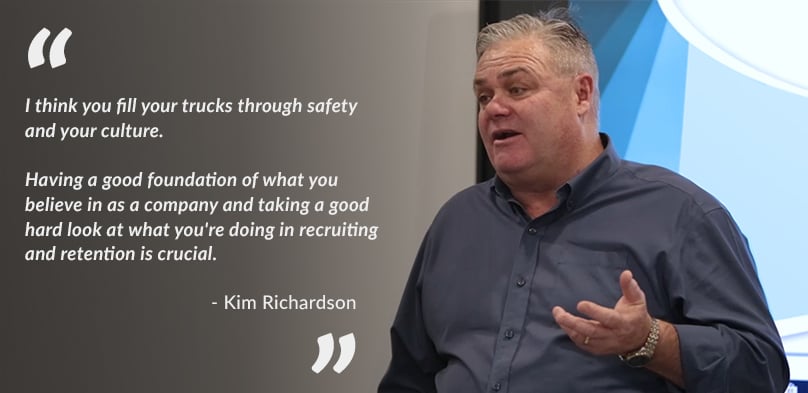 Online Reviews - A Window Into Your Culture
"When a trucker is evaluating your company, the first thing he or she does is . . . look at what the reviews are for that company."

- Scott Rea
Whether you love or hate online reviews probably comes down to what people are saying about you. In many cases, we might not be pleased when angry customers or employees (both past and present) use social media as a sounding board for their grievances, but we have to embrace the idea that driver candidates are looking at these reviews when seeking a new position.
The fact of the matter is that people usually aren't motivated to post an online review if they are happy. They only do so if they're upset with their experience.
So instead of hiding your online presence and hoping you don't gather negative reviews, welcome the feedback from drivers and employees and showcase your company voice by responding to these reviews with politeness and composure.
You should also try asking your favorite drivers for some positive reviews on your website. There's no need to try to suade them into saying something dishonest. If they like working for you, they'll do you the favor.
Then, as Kim states, "If we can reach out to our drivers on a regular basis, instead of getting that instant feedback on social media, we supply them with a forum or the ability to reach back to our company however they please."
Establishing the Forum For Your Drivers to Have a Voice
Whether you know it or not, your drivers are voicing their concerns. It might as well be reaching you in an organized way. When you establish a driver forum, you'll know what's on the minds of your drivers and you can address their concerns before your drivers are walking out the door. Better yet, be proactive instead of reactive.
Create a proactive "check-in" schedule for the first 30, 60 and 90 day period from different people in the company. The objective is to build report, continuously set expectations and ensure they're being met, and jump on any issues before they become the straw that breaks the camel's back.