A Summary of The Drug and Alcohol Clearinghouse
The Drug and Alcohol Clearinghouse is waiting for you on January 6, 2020 so we've created a summary to make sure you're compliant on day one. While the intentions of the Clearinghouse are good, the implementation has turned out to be an extremely manual process. The Clearinghouse is designed to provide you access to a database of drug & alcohol screening results for your candidates and existing drivers. You'll have full visibility of a driver's drug and alcohol history, beyond the screens that you already run today. This article is a summary of what you need to know, what you need to do and tools to get it done.
Types of Queries
There are two types of queries: full and limited. The full query provides the complete details regarding a driver's drug and alcohol testing history. The limited query simply alerts you that there is a 'hit' in the Clearinghouse. A 'hit' simply refers to an entry of information on the driver's record. A 'hit' on the limited query will require you to gain consent from the driver and to run the full query within 24 hours.
Three keys on the full query:
Must be run before hiring a driver
Must be run in the event that a 'hit' comes back on a limited query
Consent must be provided within the Clearinghouse
Three keys to the limited query:
Must be run on an annual basis for all CDL holders
Can be run as often as a company chooses
Consent can be provided outside of the Clearinghouse and can be evergreen, depending on the language that you choose to use. The A-Suite standard limited consent form uses language that allows you to run unlimited queries for the life of the driver's employment.
Cost
All queries are $1.25 and must be purchased ahead of ordering any queries. There is no bulk pricing discount but there are packages that can be purchased from the Clearinghouse so you are always ready to place an order. There is an unlimited option for $24,500, however it only makes sense if you plan to run more than 19,600 queries in a year.
What it Means to Your Pre-Hire and Post-Hire Process
As far as your current pre-hire and post-hire drug and alcohol process goes, nothing will be removed. Your Medical Review Officer (MRO) is responsible for uploading any positive drug & alcohol screening results into the Clearinghouse. You are responsible for uploading documentation for a driver that refuses to test.
Pre-Hire
You will be required to run a full query before the driver may begin safety sensitive functions. In order to run the full query, the driver must provide consent within the Clearinghouse. For every job the driver applies to, (s)he must log into the Clearinghouse and provide consent for each request. If the driver is registered in the Clearinghouse, (s)he will be notified via email when you request consent to order the full query. If (s)he is not registered in the Clearinghouse, that driver will receive the consent form via snail mail which will drastically slow down your onboarding process. The results of the pre-hire full query must be made a part of the Driver Qualification File.
Post-Hire
You will be required to submit a limited query for your entire active driver roster on an annual basis, much like you currently maintain Certifications of Violations and Annual Reviews. You can upload your roster into the Clearinghouse to batch order the Limited Query, just make sure you have purchased enough queries before running the annual query for your fleet. You will then be required to order a full query (at no additional charge) for any positive 'hit' that comes back on the Limited Query. When purchasing your annual queries, we recommend option 4 which will automatically submit a full query and send a consent request to the driver in the event that a hit returns. It is important to note that the full query must be run within 24 hours of a 'hit' returning on a limited query.
How A-Suite Will Help
Automation and ease of use were not key values when the FMCSA designed the workflow for using the Drug & Alcohol Clearinghouse. This is a manual process but we have enhanced A-Suite to ease some of the burden for you.
Pre-Hire
The biggest hurdle that will bring your speed-to-hire to a crawl is if your candidate is not registered with Clearinghouse. Non-registered drivers will receive their consent form via snail mail which will definitely slow down your hiring process! We'd suggest confirming that the driver is registered before ordering the pre-hire full query. As a part of our online application process, we have included a simple question that asks if the driver is registered in the Clearinghouse: yes or no. If no, we provide a link that will direct them to the Clearinghouse Web site to register. If a driver clicks 'yes', you will be able to see that on the A-Suite User Profile.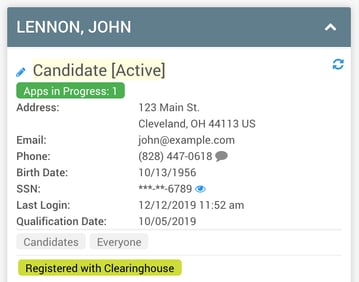 Post-Hire
Obtaining the Limited Query Consent Form
In order to run the Limited Query on your active drivers, you will need to obtain the Limited Consent Form. The A-Suite Comply forms allow you to send a mass email and/or text to your active drivers and easily collect a signature on this evergreen consent form. The A-Suite Comply Forms browser provides a summary of who has signed the form, who you're waiting on and who had a bad email/phone number that you'll need to update. We recommend including the Limited Consent Form in your A-Suite Recruit Forms so that on a go-forward basis you have the evergreen consent form on file.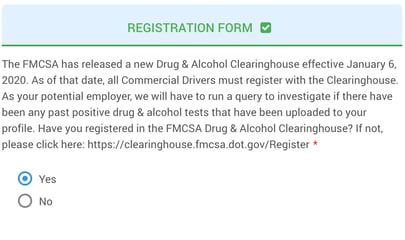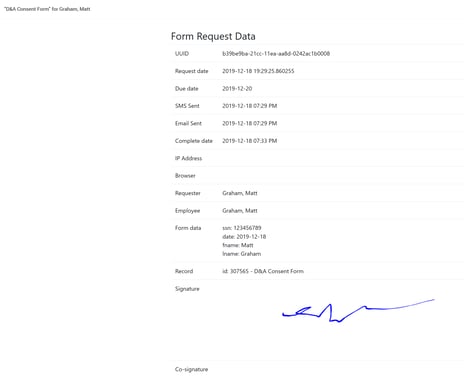 Batch Ordering
The Clearinghouse has a specific format and fields to upload to their batch order site. You can create a Saved View on the Employees Browser that includes all the necessary fields.
We've created a diagram to help you follow the necessary steps for pre-hire and post-hire queries in the Clearinghouse and to see how A-Suite can help you manage the process.