Professional drivers are not celebrated enough. The Truck Driving Championships and Technician Competition celebrates and rewards your professional, safe drivers and technicians.
This competition is the playoffs for these drivers and techs, with nine winners headed to the Super Bowl of Trucking: The National Truck Driving Championships hosted by the American Trucking Associations.
To get in on the action, we attended the Ohio Trucking Association (OTA) championship in Sandusky on May 19th, held at Kalahari Resorts. For drivers to compete, they needed to have a clean record for one year and drive at least 1,200 hours annually. The Driver competition includes:
40-question written exam

Timed pre-trip with 15 planted defects (with five being out of service violations)

A challenging behind-the-wheel course with six problems
Technicians completed a two-hour written test and had to solve nine simulated scenarios. This a great competition that encourages drivers to study the regulations, practice in-depth pre-trip inspections, and improve the handling of their vehicle - why would you not send drivers to this event???
From the Driver's Perspective
The best drivers in your fleet earn the opportunity to have their families on the sidelines cheering them on and seeing them in action. These families also get to witness the celebration of all participating drivers for the hard work and sacrifice for their life on the road with an awards banquet on Saturday night.
Kalahari Indoor Waterpark and Resort is the perfect place for the drivers to bring their families for a long weekend. The participating drivers had zero incidents for an entire year - the fact they haven't backed into one pole pays for their trip. They deserve a rewarding long weekend with their family in the pool!
The Retention Benefit
There is an abundance of company pride at this event. Drivers wear their company logos proudly and get rowdy when Team winners are announced. The Drivers and Techs feel that the company is investing in them and want to pay it forward to younger drivers in their fleet.
Mentorship is a powerful retention tool because drivers don't want to leave a company where they have strong relationships. Drivers use those driver relationships to navigate issues that might have been the catalyst to leave your company.
Finally, the more your drivers are improving their craft, the less likely you'll have a "have to firing"...he was a great driver but we had to let him go.
The Results
The 2018 winner is no stranger to the stage: FedEx Freight driver, Scott Woodrome, was named the Grand Champion for the second year in a row. This is his third overall victory, winning in 2012, 2017 and now 2018.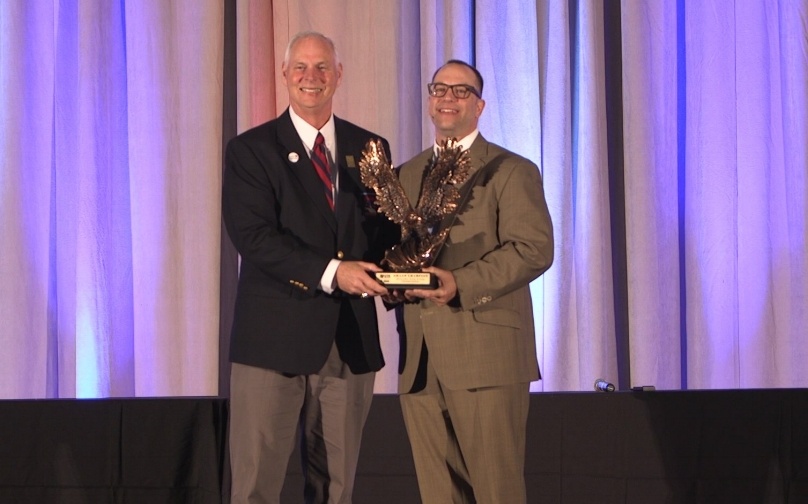 The Driver winners by class were:
| | | |
| --- | --- | --- |
| Class | Company | Winner |
| Step Van | FedEx Ground | Aaron Snyder |
| Flatbed | FedEx Freight | Bryan Elges |
| Twins | YRC Freight | Jeff Rose |
| Sleeper | Ross Transportation Services, Inc. | Mark Hewitt |
| Straight Truck | FedEx Freight | Paul Hillman |
| 4-Axle | Pitt Ohio | Jeff Pentrack |
| 3-Axle | UPS Freight | Paul Savill |
| 5-Axle | Pitt Ohio | Richie Bownman |
| Tank Truck | FedEx Freight | Scott Woodrome |
The Technician Champions were:
1st Place: Nathan Lehman
2nd Place: Ben Sando
3rd Place: Michael Solvey
Your Drivers Deserve Recognition and Applause for their Safe Driving as Well
If you did not attend this year's OTA Truck Driving Championships, be sure to register your drivers for next May. The event is family friendly, a good time, and a great way to promote safe driving and celebrate team success. Start setting up practice sessions in your yard. Give your Drivers and Techs an incentive to continuously improve their craft. You're proud of them - use the Truck Driving Championships to show them!
---
Looking for more ways to retain drivers? Download our ebook on 75 Strategies to Help Increase Driver Retention