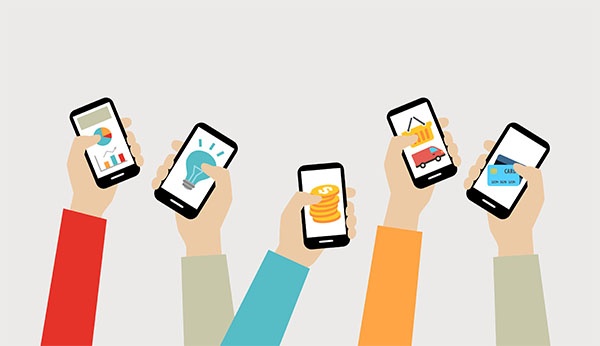 There are truck drivers looking for jobs and no one is reaching them. But you can. The world has gone mobile and lives on social media. Hey trucking: come join us! Here are two simple reasons why:
90% of drivers apply to work for driving jobs on a mobile device
Over two-thirds of truck drivers are on social media. If you ever want to hire a driver who is younger than 55 years old, you have to follow the market and meet drivers where they spend their time – Randal Reilly's recent annual reader survey shows a considerable favoritism for Facebook and LinkedIn and that 68% of job seekers use their smart phones to access these social media sites.
Trucking is Behind the Times – Make it Your Advantage
According to a Trucks.com article, "40 percent of trucking companies are using mobile-friendly application and screening processes to create a better 'onboarding' experience." That's not a misprint. 90% of drivers apply on a mobile device but only 40% of trucking companies are using a mobile friendly application. For the love of safe drivers, make sure your Applicant Tracking System has a mobile-friendly job application.
Current Recruiting Methods
According to HireRight's 2017 Transportation Spotlight, the top five recruiting methods are:
Referrals 84%
Corporate website 63%
Online job boards 56%
Recruiting former applicants and past employees 44%
Social networking 42%
Driver Referrals
For AvatarFleet's recruiting business and our A-Suite Recruit clients, driver referrals are consistently the most productive and lowest cost per hire for all recruiting sources. They have the added benefit of paying your existing drivers (for a nice retention bump) rather than paying Indeed or Craigslist. You're going to spend the money anyways – give it to your drivers! Keep making this your number one source.
Corporate Website Is NOT A Real Source
I HATE corporate websites as a lead source because no one magically finds themselves on your website. Something drove them there. The source is an ad, a natural search (SEO), or social site. Take "corporate website" off of your tracking system today!
Jobs Boards
The right online jobs board can be effective because the demographic is 100% truck drivers. However, avoid jobs boards where they farm out driver names to hundreds of companies. You'll be one of fifty recruiters that driver hears from in an hour. Prioritize jobs boards that allow the driver to come to you (Inbound Leads). If you followed our process to create a Driver Brand Statement, you'll have a unique message that will compel a driver to call you. This process increases your conversion rate of lead to hire, making your cost per hire decrease.
Rehires
Rehires are great sources. You already know these drivers and you can be picky about who you ask back. Unless you really suck, drivers who left tend to learn quickly that the grass wasn't greener on the other side.
Social
Only 42% of trucking companies are recruiting on social even though over 70% of drivers are on social media sites. Here's a blue ocean space to advertise. Now is the time to start advertising here before the masses come here and drive up the rates. Hurry, while cheap impression shares last!
Buy While It's Cheap
If the world ended tomorrow, the trucking industry would be around for another 10 years. Drivers are ahead of trucking companies and already on social. Truck drivers are hunting for jobs there. Use this to your advantage while your competition is still wasting their dollars on the local newspaper that nobody reads (except for our CEO, Mark G. Gardner).