Cleveland, OH - AvatarFleet, the software provider that helps transportation companies fill empty seats, pass every audit, and bring 'em home safely, is pleased to announce that Charles Farone, Nathan Shuey, and Nick Swisher have recently joined the company.
"We're honored that Charles, Nathan, and Nick have decided to call AvatarFleet home," said Scott Rea, president of AvatarFleet. "These high-caliber professionals have a proven track record for building strong connections with clients, bringing to market innovative products, and reaching new customers."
Charles Farone, Director of Customer Success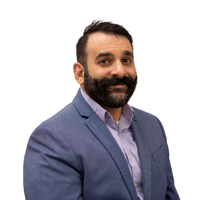 Charles Farone is an executive leader and subject matter expert in the transportation safety, compliance, and fleet management industries. He has over 20 years of experience driving transformational change, championing continuous improvement, and optimizing client success.
As AvatarFleet's Director of Customer Success, Charles leads our client success team and cultivates a relationship-focused and customer-success culture through organizational design. He focuses on strengthening our client relationships and ensures all customers benefit from our company's products and services.
Charles comes to AvatarFleet after serving as Area Leader, Transportation Compliance at DISA Global Solutions, a third-party administrator that provides safety and compliance solutions. In his previous role, Charles oversaw operations, P&L management, and client success. He also effectively led a team of eight direct reports and 35 indirect reports across five different locations in the U.S. and Canada.
"I'm genuinely excited to join the AvatarFleet team as their Executive Steward of Customer Success. I believe AvatarFleet has a revolutionary business model and a talent-rich team that uniquely positions it to deliver quality outcomes at velocity to ultimately solve the driver problem," said Charles.
"As the industry evolves through restructuring, consolidation, and technology, I believe AvatarFleet is in a position to provide a cost-effective and timely suite of driver recruitment, compliance, and training services to help carriers remain competitive and evolve."
Nathan Shuey, Sales Executive

Nathan Shuey brings over 20 years of sales experience to AvatarFleet. He specializes in SaaS and IoT sales for the transportation and trucking industries. Most recently, Nathan served as an Account Executive for Idelic, a safety and operations software company.
As Sales Executive, Nathan supports our growth initiatives by engaging with prospects and existing clients. He focuses on establishing new business and helping fleets solve their driver problems with A-Suite.
"I'm thrilled to be joining a company that empowers their employees on a daily basis to make a significant impact on the fleets we help. Not only ensuring that we can help solve their driver and compliance bottlenecks but also making the roads safer for everyone!" said Nathan.
Nick Swisher, Sales Executive
Nick Swisher joins AvatarFleet with five years of business development and account management experience. Prior to AvatarFleet, he served as Sales Director and Account Manager at Shamrock Companies, a full-service, integrated marketing solutions company. Before Shamrock, Nick spent three years at Asurint in various client-acquisition roles.
In his new role as Sales Executive at AvatarFleet, Nick helps prescribe solutions and implements data-driven growth strategies to generate revenue. He also builds customer relationships, engages in prospect outreach, and closes new business.
"I am ecstatic to have joined a talented team of individuals who are wholeheartedly committed to helping fleets get more trucks on the road with professional, safe drivers. AvatarFleet's products and services are revolutionizing the trucking industry – saving carriers time, money, and headaches," said Nick.
About AvatarFleet
AvatarFleet exists to help transportation companies fill their empty seats, pass every audit, and bring 'em home safely. AvatarFleet's innovative software, A-Suite, provides carriers with the necessary tools to keep professional, safe drivers behind their wheels.