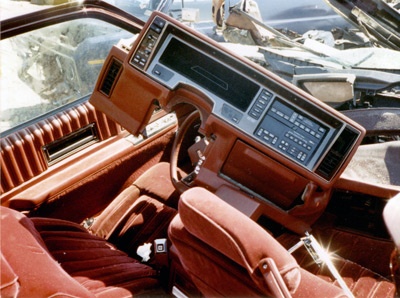 This blog post was updated on June 17, 2021.
In April of 1990, I was forced by a hit-and-run driver head-on into the path of a 26,000 pound Peterbilt tri-axle dump truck. Obviously, I survived, but it ruined my day. Ironically, I was a safety professional and had previously written training programs on how to avoid such a collision. I even followed my own advice, but the speed and circumstances were too much for my skills and abilities. Based on the speed of the truck and my car, the collision was later estimated to be 80 miles per hour.
The accident caused me immense pain, my friends and family great fear, and the driver of the dump-truck heartache as I clung to life. However, if it wasn't for this accident, I would not have dedicated my life to making the world a safer place.
"Back then, there were no airbags, but my seat belt saved my life"
A One Percent Chance to Live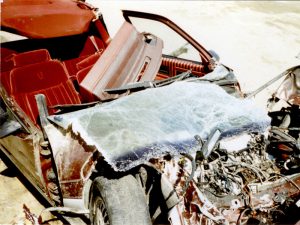 Back then, there were no airbags, but my seat belt saved my life. The impact broke both my legs, nine ribs, my sternum, my clavicle, my left arm and wrist in several places, my left hand, my fingers, and my right foot and toes. Medics quickly arrived. In about an hour, they managed to cut me free from the wreckage. They gave me a helicopter ride to the trauma center while jamming a four-inch needle into my chest to inflate my crushed right lung.
I lay broken, in pain, and surrounded by a dozen medical trauma experts. They began the challenging task of saving my life. For this, I am forever grateful. I learned later, they only gave me a one percent chance of making it through the night. I also found out the hard way that medical protocol in these circumstances didn't allow any pain medication – not even an aspirin. It can cause problems in surgery. I begged and even tried to bribe them, but nothing worked.
They cut open my belly and probed inside me for internal bleeding. They inserted tubes where tubes shouldn't go. They probed into my heart with a catheter through my groin, looking for a torn aorta. It all hurt, but I kept joking with them anyway. Apparently, it was some bizarre, shock-induced response mechanism. Maybe it's why I'm still crazy to this day.
No one ever found the culprit who caused the accident. He had just passed the dump truck and several cars traveling in the opposite direction. When he came over the hill, he was on the wrong side of the double yellow line, aimed right at me. Was he drunk? Was he late for an important meeting? Was he distracted? Did he even understand the risk he was taking? We'll never know. What we do know is that his choices that day have affected the lives of more than a million people.
Making the World a Safer Place
As I lay in the hospital after the third surgery, I decided to dedicate the balance of my life to making the world a safer place. Many years later, the companies I founded - Avatar, AvatarFleet, The School Bus Safety Company and The Transit Para-Transit Company - continue to produce hundreds of highly effective safety tools. These tools are used by all types of fleets, professional drivers, the motoring public, and even schoolchildren.
We've done well. We've saved lives and made the world a safer place. But every day while driving, I still witness unsafe behaviors. People following too closely, texting, changing lanes without signaling, driving too fast for conditions. The list goes on and on. Do you see it? Do you do it? If so, why? Life is precious. Please, Look Ahead, Look Around, Leave Room and Communicate. And, don't break the laws. Enjoy a full life and die of old age and natural causes. That's my hope for me and my wish for you.
Help us make the world a safer place.