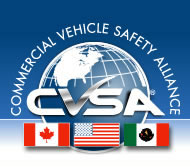 CVSA Roadcheck Inspection Blitz Blues? Handy Hints From Your Friends At AvatarFleet
Did you know that 80% of your CSA headaches could be eliminated by correctly executing basic duties, such as a thorough, well-executed pre-trip inspection, and an earnest effort to be vigilant about keeping your logs accurate?
CVSA Roadcheck is June 3-5, 2014
With the annual CVSA Roadcheck inspection blitz upon us (June 3-5), I thought I'd share some straightforward information that can help you, during inspection week, and long after. Roadcheck is the largest targeted enforcement program on commercial vehicles in the world, with approximately 14 trucks or buses being inspected, on average, every minute from Canada to Mexico during a 72-hour period in early June. Each year, approximately 10,000 CVSA-certified local, state, provincial and federal inspectors at 1,500 locations across North America perform the truck and bus inspections.
Here are a few aspects to pay particular attention to in your pre-trip inspections and on the road that will help keep your wheels rolling and get you and your cargo where you need to be:
Be thorough in your inspection. Faulty equipment must be repaired before you hit the road – or it may come back to haunt you before you reach your destination. Check your 'BLT' before you leave: brakes, lights and tires. They're the top three equipment issues that you get dinged for in an inspection. And double-check your connections. Being buttoned up before you head out might make your pre-trip take a little longer than you'd like, but isn't that preferable to subjecting yourself to a 45 minute roadside inspection?
Keep your logs up-to-date and accurate. E-logs are coming, and that is not necessarily a bad thing. It's wise to employ any strategy you can to help you stay compliant. And don't get me started: I know that compliance isn't the same thing as safety, but when you're playing with the Federal Motor Carrier Safety Administration, you have to play by their rules, and you might as well play smart.
Don't make yourself a target! Practice intelligent defensive driving and you won't give yourself a reason to get pulled over. The top three reasons why drivers get pulled over?
o Following too closely (remember to keep a five second following distance at all times – and increase that distance by one second for every detrimental environmental issue, such as snow, ice or fog).
o Improper lane change (changing a lane is a voluntary act, and you'd better have a legitimate safety reason to do so).
o Speeding (now listen: drive more five miles per hour over the speed limit and you're just asking for trouble!!)
Set norms with outcome based training
Comprehensive, outcome-based training upon entering the ranks of Professional Driver, along with regular continued education and training, should set norms for driver performance that can eliminate all of these violations. Creating a culture of safety through professional defensive driving is the desired standard for all carriers, and it is our goal here at AvatarFleet. We exist to make the world a safer place – it's the reason we come to work every day.