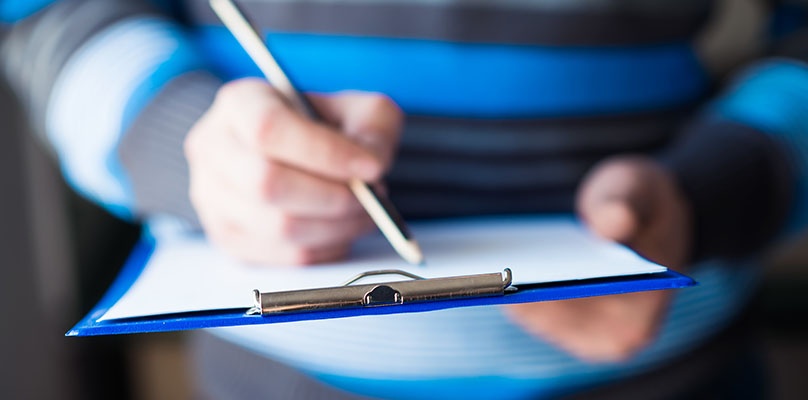 [Updated November 2019]
Managing your DQ Files doesn't have to be thorn in your side. You should never lose a wink of sleep when you find out you're going to receive a DOT audit.
A simple checklist and using technology to automate the communication and document uploads from your drivers gives you hours back in your day - hours you don't need to waste pushing papers.
This checklist is a summary from FMCSA 391 and is designed to help you ensure no little detail is missed when you're creating DQ files.
Applications
Driver's name, date of application and signature. Note that signature must be legal, especially if electronically signed

Name and address of the Employing Motor Carrier

Driver's current address, date of birth, and SSN (SSN not needed if religious practices indicated)

3 years of residence history without gaps

3 years of previous employment plus up to an additional 7 years (total of 10) if the driver worked in a safety sensitive position

Each employer includes:

Company name

Address

Supervisor Contact information

Length of employment (month/year)

Reason for leaving

Whether or not position was safety sensitive and required DOT drug testing

Any gaps in the employment history greater than 30 days need to be explained

Current license information for each active license:

Issuing state

Number

Expiration on each unexpired commercial license

Driver must note if any license was suspended, revoked or forfeited within the past 3 years

Driving experience and type of equipment driven

3 year driving history of violations and suspensions

Hours worked last eight days before hire (may also be captured on the 7 Day Log)
Pre-Hire Motor Vehicle Report (MVR)
Report covers most recent 3 year period, and run for every state that driver held a license in the past 3 year period

Report order date is within 30 days of a driver's official date of hire (a common, fine-able error for drivers with long training periods)

If a driver is not hired within that period of time, you must run a new MVR before the driver is permitted to drive

Confirm your Compliance Management System provides a time stamp for when a company employee reviews the results
Previous Employment Verification
Any safety sensitive positions a driver has held over the past 3 years must be verified. If you are unsure if a previous employer was a safety sensitive position or not, always error on the side of caution.

Ask and document the DOT mandated questions about a driver's history of drug and alcohol testing:

Were they in a safety sensitive position?

If so, were they drug tested?

Did they test positive?

Did they refuse to be tested?

Did they have other DOT test violations?

Did they report any outside drug/alcohol violations to you?

Document a "good faith" effort for each previous employer

"Good faith" is subjective, so our best practice is three separate phone calls and follow-up email/fax for written documentation.

Document the evidence in your Applicant Tracking System

Reporting employers must sign and date the PEV request and send back within 30 days of receiving

Complete documented efforts before 30 days from the date of hire

Drivers must sign an authorized consent form before you can run these inquiries. If they don't sign it, they can't drive.
Road Test
If the road test is successfully completed, the person who gave it shall complete a certificate of driver's road test that is signed and dated by the driver and trainer completing the road test

A copy of a current and valid CDL can be used in lieu of the Road Test upon hire

Review your company's policy and your state's individual rules regarding road testing- they may be more demanding than the DOT. Many states, for example, require occasional road tests to track driver skill over time, or special testing like recurring defensive driving evaluations (ex: New York)

If your company runs their own initial road tests, or a driver has a road test conducted at a third party site (not the BMV) you must retain this documentation in the DQ folder.
Commercial Driver's License (CDL)
Non-expired CDL with proper endorsements and class

Scan both sides of a CDL (if your state has endorsements on the back)

Drivers may only have one valid CDL at a time (unless they are granted a special exemption from the DOT, which you need to keep in the DQ folder as well)

It is a good practice to retain the original CDL of a driver in the DQ folder for as long as the driver is employed with your company

Non-CDL drivers should also have their valid (not expired) state driver's license on file with appropriate endorsements if applicable

Medical Card/Medical Examiner's Certificate
Complete DOT approved physicals no less than every two years and more frequently if a physician deems it necessary.

The physician must completely fill out and sign a Medical Examiner's Certificate (commonly known as a Med Card). No fields can be left blank.

The doctor conducting the physical must be in the National Registry and can be searched with the registry number on the med card. Some states have restrictions such as not allowing chiropractors to qualify, even if they are in the registry. Med Card should be accompanied with some kind of proof that the examiner was verified by the manager as in the registry (ex: a note with date and time, a screenshot of the doctor's registry entry page, etc.)

The driver must sign and complete the bottom section of the Med Card. The accompanying physical documentation (long form) as well as exemptions and waivers should be stored in a driver's separate Medical folder unless state law dictates otherwise.

Add to your checklist state's laws for any special waivers.

Non-CDL drivers must still have physicals conducted if they are interstate drivers (i.e. they cross state lines).

Drivers who drive in excepted interstate/intrastate are not required to have DOT physicals conducted. You must still have a waiver in their DQ file stating this.

Under current rules, a driver may use an existing medical certificate for up to 15 days after their hire date. This rule will be under review in 2021, so we do not recommend doing this regularly.
Annual MVR
MVRs should be run at least once a year starting on day 365 after the hire date

MVR should contain all recent driver history and up to date medical information for that driver

MVR should contain the correct self-certification for the driver. Consult the full DOT descriptions for each of the four categories of medical certification of drivers if you aren't sure how certain drivers should self- certify with the state licensing agency

Certificate of Violations/Annual Review
This Annual Review is a separate document signed and discussed by both the driver and manager, beginning after the driver has completed one year of employment at your company

Ideally, a new Annual MVR should be completed the same day or very near to the Annual Review

Drivers and manager must sign and date the document on the same day. Manager's bottom section of the form will generally fulfill the requirement that the driver's record was reviewed promptly under Rule 395.21, but if you received your Annual Review from someplace online that was not FMCSA or DOT, review this rule section to be sure

The Annual Review should list all of the violations (regardless of vehicle type or ownership) a driver had in the past year that are on the MVR. It should also include out of state violations reported by the driver

If a driver had no violations, this must be indicated on the form. Most DOT approved forms have a box to check for no violations
Disclosure and Authorization Forms
The DOT requires drivers to receive a document that lists all of the inquiries that will be made. This must be signed and dated and in the file.

Inquiries fall under the four major categories of employment history (both previous employment for safety sensitive purposes and also for character and work experience), personal history (residence verification, credit/financial history and Social Security verification), criminal background check and driving history.

These forms may be combined into one document or be several separate documents. However, each one must be signed and dated by the driver and must be separate from the application.
Other Record Types
There are several other records you will or may have to collect during a driver's hiring process. Some of these, such as the criminal background check, typically are stored in separate paperwork from the Driver Qualification folder in a distinct HR folder of kind. These kinds of documents, as well as training documents, may often be kept in the DQ folder if you wish. Others, such as drug and alcohol test results, must be kept separate in their own specific folder per DOT rules for privacy and legal reasons. Consult both the DOT regulations and your state's regulations regarding some of these specific records in order to make the best decisions regarding how to organize these other record types.
Rehired Drivers
Rehired drivers (who have left the company for more than 30 days) must have a new and separate DQ Folder created upon their return to your company. This requires new documentation for all pre-hire records. You may use a valid CDL in lieu of a road test and an old previous employment verification for a required previous safety sensitive position if that PEV was successfully conducted. Drivers who left the company for more than 30 days must undergo a new drug test.
Managing this checklist for your fleet is a taxing process. Use the A-Suite Recruiting and Compliance Module to automate collecting, building and tracking your DQ files. Get back to more important tasks than paper pushing by trying the A-Suite Free today.