The A-Fleet: Professional Safe Driver Course
The A-Fleet™ covers all the pertinent safety, defensive driving, injury prevention and regulatory topics. It uses a blended approach that includes self-directed study with hands-on, skills-based training, explicit performance standards and easy-to-use documentation.
Learning Management System:
Watch videos and take quizzes on any device

Automatically track quiz scores with time & date stamp

Assign specific modules to specific drivers or multiple modules to your entire fleet with completion deadlines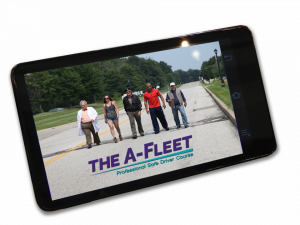 Multiple Usage:
Driver orientation:

You create the schedule and auto-enroll new drivers to 16 25-minute video courses at their convenience or during orientation.

Preventative training:

The 26 Safety Tune-ups are designed for 3-5 minute refresher courses as a key component to your preventative campaigns. Classroom workbooks correspond with the topics to allow you to create your annual safety campaign in a few minutes.

Safety meetings

: Any of the courses can be used for in-service safety meetings to focus a loss leader (e.g. backing) or CSA issue (e.g. HOS). The driver study guides correspond with the video courses and provide discussion topics, questions, and additional quizzes to reinforce the learning points.

Remedial training

: Individually assign courses to train the driver on specific problem areas.