The A-Fleet: Professional Safe Driver Course
The A-Fleet™ covers all the pertinent safety, defensive driving, injury prevention and regulatory topics. It uses a blended approach that includes self-directed study with hands-on, skills-based training, explicit performance standards and easy-to-use documentation.
Learning Management System:
Watch videos and take quizzes on any device

Automatically track quiz scores with time & date stamp

Assign specific modules to specific drivers or multiple modules to your entire fleet with completion deadlines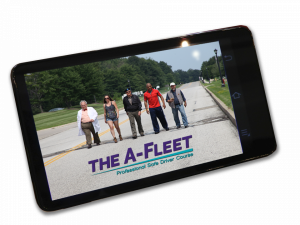 Multiple Usage:
Driver orientation:

You create the schedule and auto-enroll new drivers to 16 25-minute video courses at their convenience or during orientation.

Preventative training:

The 26 Safety Tune-ups are designed for 3-5 minute refresher courses as a key component to your preventative campaigns. Classroom workbooks correspond with the topics to allow you to create your annual safety campaign in a few minutes.

Safety meetings

: Any of the courses can be used for in-service safety meetings to focus a loss leader (e.g. backing) or CSA issue (e.g. HOS). The driver study guides correspond with the video courses and provide discussion topics, questions, and additional quizzes to reinforce the learning points.

Remedial training

: Individually assign courses to train the driver on specific problem areas.
Course List:
The Professional Safe Driver Course includes 16 modules:
Understanding Safety and Risk - Presents the definitions of safety, accidents, and risk, and teaches drivers how to use that knowledge to avoid unsafe behaviors (taking chances) and eliminate accidents.
Pre-Trip Inspections -Pre-Trip Inspections - Discusses the importance of conducting a consistent pre-trip inspection and documenting the condition of the truck, so that potential safety hazards can be identified and addressed.

LLLC™ Defensive Driving - Educates drivers how to drive defensively and prevent accidents by using the Four Driving Principles of Safety™: Look Ahead, Look Around, Leave Room, and Communicate.
Following Distance - Educates drivers about the importance of always using a minimum five-second following distance on dry road conditions, and discusses how to adapt to different driving conditions.
Backing Basics - Covers the potential dangers of backing a truck and how to avoid backing whenever possible; focuses on the changing environment, using spotters and standard hand signals, and using G.O.A.L. - Get Out And Look.
Intersections - Educates drivers about the risks associated with intersections and the best methods for negotiating a heavy truck through controlled and uncontrolled intersections; covers left and right turns and using the Rock and Roll technique.
Changing Lanes, Merging and Passing - Informs drivers of the correct procedures to follow when changing lanes and while merging onto and exiting a highway. The intended outcome is to reduce the rate of accidents involving lane changes.
Railroad Crossings - Educates drivers about the potential dangers of railroad crossings, the commonality of accidents at railroad crossings, and the procedure to follow when crossing tracks; covers Federal laws concerning HAZMAT-carrying vehicles.
Adverse Conditions - Teaches drivers how to react and respond to adverse driving conditions, including rain, ice, snow, sleet, hail, fog, smoke, reduced visibility, night driving, animal strikes and mountain driving. The intended outcome is to reduce the rate of accidents in inclement weather and adverse driving situations.
Human Factors and Fatigue - Informs drivers about human limitations such as fatigue, the basics of sleep, and how to avoid fatigue in day-to-day life; covers other human factors that affect safety (e.g. wellness and distractions) in an effort to reduce the occurrence of accidents related to driver fatigue and other human factors.
Emergency Procedures - Trains drivers on proper accident and emergency procedures, so that accidents and emergencies are handled efficiently and without creating additional exposure to loss.
Large Vehicle Dynamics - Educates drivers about the dynamics of large vehicles and how to safely maneuver a commercial vehicle when gravity, inertia, centrifugal force, traction, friction and center of gravity are at play.
Load Securement - Educates and trains drivers on proper load securement techniques in order to prevent accidents and avoid delivering damaged loads to customers; includes securing different types of loads, such as tubes, drums, coils, flat-rolled steel, coiled tubing and tarping.
Federal Regulations - Teaches drivers about the importance of preventing driver fatigue, which increases the risk of accidents; covers how to comply with Federal laws regarding driver qualifications and hours of service regulations.
CSA - Covers the CSA's Safety Measurement System (SMS) and teaches drivers how to comply with CSA regulations regarding truck safety.
Injury Prevention - Educates drivers how to protect themselves from slips, trips and falls, as well as injuries caused by improper lifting; includes techniques for safely getting in and out of the truck and avoiding back injuries.
Safety Tune-Ups:
New drivers and owner-operators complete several hours of driver education and training at the time of hire or contract. The best basketball players shoot free throws every day and the best drivers focus on the little details every day. Safety Tune-Ups ensure that these vital subjects remain top-of-mind until they result in habituated safe driving behaviors. The A-Fleet includes 26 short three to five minute videos followed by two to five questions, called Safety Tune-Ups.
Safety Tune-Up Topics include:
Drop Hook & Landing Gear
Pre Trips
Communicate
Look Around
Injury Prevention
Blind Spot Management
Situational Awareness
Night Driving
Animal Collisions
Tail Swing
Leave Room
Dangers of Turns
Jackknife & Rollover
Intersections
Seatbelts
Fatigue
Look Ahead
GOAL
Speeding
Adverse Weather Condition
Changing Lanes
Misconduct
Seats and Mirrors
Distracted Driving
Following Distance
LLLC