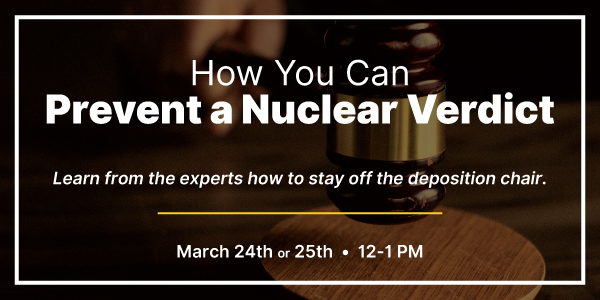 As nuclear verdicts become more prevalent in North America, transportation companies are experiencing skyrocketing insurance premiums for excess coverage and a dark looming cloud of the one event that can bankrupt your company. Even if you're not responsible for the accident, motor carriers are still vulnerable to financial liabilities.
So what is a nuclear verdict? And how can it be avoided? What are some best practices to maintain?
AvatarFleet gathered a panel of experts in the Canadian transportation, legal, and risk management industries to address these questions and more in a webinar about How You Can Prevent a Nuclear Verdict on Wednesday, March 24. Listen to what the panelists had to say.
Canadian Panelists
What Is A Nuclear Verdict?
"A nuclear verdict is typically a judgement award, not in the trucking company's favor, that is in excess of $10 million U.S.," said John Oldfield, Client Executive at NFP.
John points out that the trend in excessive lawsuits originates from the 1994 Liebeck v. McDonald's Restaurants case, where a 79-year old woman was severely burned after her McDonald's coffee spilled in her lap. The jury in the case awarded her $2.7 million in punitive damages.
"The McDonald's scalding coffee incident changed the way that everyone looked at lawsuits. Lawsuits became lotteries. Unfortunately, attorneys, judges, and juries were all affected by that decision," said John Oldfield.
John proceeded to share several real-life examples of nuclear verdicts, including the first-ever verdict in the trucking industry, as well as the most recent case.
Nuclear Verdict Cases
The first historic nuclear verdict occurred in 2011. The case was filed by a Georgia woman who wanted to hold a trucking company responsible for an accident that killed her husband. The company's driver ran a stop sign, struck a vehicle, killed two people, and seriously injured another occupant. The jury awarded the plaintiff an unprecedented $40 million.
The most recent case, and what is believed to be the largest settlement ever, is still in progress. In 2020, a jury ordered an owner-operator to pay $411 million to a Florida motorcyclist who was severely injured in a multi-vehicle accident in 2018.
Verdict Size Skyrockets
The average verdict size continues to rise. From 2010 to 2018, the average verdict size for a lawsuit above $1 million involving a truck accident, increased nearly 1,000% - rising from $2.3 million to $22.3 million.
What Are Recommended Practices for the Deposition Chair?
If an accident occurs, you may be named as a defendant in a personal injury case. As part of the discovery process, you'll be deposed - meaning you'll be asked to give your sworn, out-of-court oral testimony that may be transcribed by a court reporter and used later in court proceedings or at trial.
So what should you expect and do if you find yourself in the deposition chair? What are some best practices?
"The best practice for when you're in the deposition chair, is to stay out of the deposition chair," said Lisa Arsenenau, Producer at Staebler Insurance.
"Robust safety and operational practices are essential. Robust meaning best in class. You'll want to stay out of the chair by having robust policies, robust hiring criteria, and robust follow through," said Lisa Arsenenau.
"You have to remember that when the loss occurs, you won't be attacked for that single event. You'll be attacked for the actions of your entire company overall. For the trucking industry in general. They'll generalize your actions. It's important to know what you're defending," said John Oldfield, Client Executive at NFP.
"What I've done with all of my trucking companies is benchmarking. You never want to go on defense. No matter what happens. You need statistics that your company operates on and benchmark it against the rest of the trucking industry," said John Oldfield.
What Are Best Practices for Hiring Policies and Procedures?
"A company's hiring practices can have a significant impact on being able to avoid a nuclear verdict...Prevention is the best medicine," said Michael Thompson, CEO of ISB Global Services.
"My five best practices (or in other words, risks to avoid) in your hiring practices are:
Self-serve. My biggest concern is allowing drivers to submit their own abstracts and criminal records. This can be easy to solve, for example, we provide our customers an e-commerce engine that they can put on their website. Drivers can pay for the documents, and then the documents are sourced from a credible source.
Not all criminal checks are created equal. CPIC (Canadian Police Information Centre) can be up to two years behind on registering offenses. What I would recommend is a second level check called a Criminal Record and Judicial Matters Check (CRJMC).
One and done - It's important to implement a re-qualification process for your drivers. I would suggest the following schedule that would include: monthly driver's license checks to ensure validity, quarterly abstract checks, and annual criminal checks.
Look forwards not backwards - There are new psychometric assessments that will allow you to look forward and predict a potential risk of a driver. For example, the Driver's Safety Quotient, which measures a person's risk profile.
Embrace technology - The best way to create predictability and standardization is to implement a compliance platform to assist your recruiters and reduce the human element."
"Your recruiters have enough on their plate so automate, automate, automate," said Michael Thompson.
"If you didn't document, it didn't happen. There is a way with technology to have your cake and eat it too. You can enforce the process, you can document, and frankly, it's quicker than how it's done on paper," said Scott Rea, President of AvatarFleet.
How Do You Evaluate If You Have Best Practices? How Can You Ensure That They Are Implemented and Followed Through Every Time?
"I encourage anyone that I meet with to create their own benchmarking program. Every quarter take out so many driver files," said John Farquhar.
"The modern method of recruiting drivers, onboarding drivers, managing drivers is all new. And if you haven't completely radicalized the way you manage that, your benchmark is low, and your ability to defend yourself in the court of law is being reduced significantly." said John Oldfield.
Safety Policies and Procedures: What Does a Good Safety Culture Look Like?
"A good safety culture is actually noticeable when you walk in the front door. It's a happy place; it's a clean place. The one thing that is unique is that they put their people first - not their customers or equipment - their drivers and their staff are first and foremost. They know their company will not run without having the right people. It then trickles down from there. You have processes in place that prove exactly what we're doing and making sure that we're compliant," said John Farquhar.
"For my fleet, we have stickers that say, 'We A.R.E., which stands for Audit, Ready, Everyday.' It is a badge of honor for the fleet. We should never be playing catch up or prepping for an audit, and the safety culture should be, We are Audit Ready Everyday," said Lisa Arsenenau.
"When I walk into a trucking yard, you can feel it. I eventually get around to asking the question, 'Who is in charge of safety and compliance in the trucking fleet?' It's a trick question. You know who is in charge of safety and compliance? Everyone. Safety is the DNA of the company. The true definition of a healthy culture is that every employee in the company would make the same decision as the owner of the company in his absence," said John Oldfield.
Best-in-Class Fleets - How Often Are They Doing Background Checks?
"From a provider perspective, you're probably checking license validity every month. Best in class fleets check their drivers' abstracts quarterly. Criminal checks are done each year," said Michael Thompson.
What Is the Difference Between Compliance and Safety?
"Compliance is table stakes. There are no ifs, ands, or butts. It's meeting the requirements of the regulations. Safety is taking it a step or two further. This is where we start implementing best practices. Risk management is looking at all aspects of the company. We're looking at liability issues, social media aspects, or even how our dispatchers talk to customers," said John Farquhar.
"Be compliant so you don't get fined. It will lead to safety. Be safe so you don't hurt anybody. But manage your risk so the clear and present danger (attorneys) don't come after you," said Lisa Arsenenau.
"Compliance is enforcing rules. We have rules, but we break them. The safety culture is getting people to buy in. You inspire people to buy in. Are we hiring, firing, and promoting based on safe behaviors? If so, that's how we build a safety culture," said Scott Rea.
What Can Motor Carriers Do at a Minimum to Help Them in This Fight Against a Nuclear Verdict?
"When you have been involved in a collision or incident, do not allow anyone in your organization to use the verb 'fault.' Use other words, responsible or preventable. Never use 'fault.' That's a word for judges, juries, and society at large," said John Oldfield.
"The best companies out there that don't have these issues, know what it takes to not get into that situation. Be aware of what you're up against. Know your opponents. Educate yourself," said John Farquhar.
"Accept responsibility without assuming liability, and make sure your case vulnerability is poor loss prevention," said Lisa Arsenenau.
"Work smarter, not harder. Automate and use all the best practices. That's how you build your defense wall," said Scott Rea.